The kitchen / cooking area of the cottage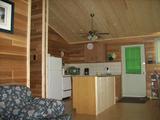 The kitchen in the cottage is fully equipped with everything you may need for make those perfect family meals.

It has a fridge with an integrated freezing compartment and is furnished with a microwave oven, a regular oven and stove with 4 burners. So you can do your cooking just like you do in the city.

Plates, glasses, pots and pans are available in sufficient quantity.

The kitchen also has a large counter and work surface to make cooking meals easy and let you kitchen work as simple as it is at home.