The dining area with seating for 6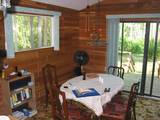 The spacious living area provides enough room for peace and relaxation.

The dining area in the cottage offers sufficient seating for 6 people. Should you need to feed more there is additional seating space with stools along the bar/counter. Our old solid Oak dining room table was put in here after we sold our house in the city. It really always belonged in here.

The franklin stove in the living area creates a warm environment in our home away from home.

Of course there is also sufficient seating on the veranda with comfortable chairs so that eating outside on warm days or serving friends is a part of cottage country living.