There are several grocery stores in the area
Hillside Beach Store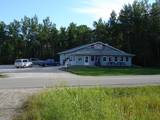 The Hillside Beach Store is situated on Hillside Beach Road, at the corner of Harry Craig Rd.
Along with selling groceries, the store has a Domo gas station with very reasonably prices, movie rentals and a lotto booth. It also has a snack bar that serves burgers, fries, pizzas, Salisbury Steaks and drinks.
Purolator and UPS deliver their parcels to the store where they can be picked up by customers.
Saffie's General Store in Albert Beach
Traverse Bay Corner

The store at Traverse Bay Corner, corner of Hwys 11 & 59, has a wide selection of groceries and other things such as some hardware and a liquor store.
The store has a large gas station in front and offers diesel fuel and propane.
There is a post office integrated into the store and they also have a video rental.